Empowering creators, shaping the future.
At Saparda, we fuel local Turkish talent with resources and capital, turning innovative ideas into reality. Our work isn't just about launching startups—it's about reshaping the innovation landscape and forging a new narrative of economic growth through the power of community and small-scale investment.
Community impact.
Our impact goes beyond our portfolio. Through Komünite, we're creating a vibrant community of creators and indie hackers who are transforming the face of entrepreneurship.
Discover Komünite
Access to Resources
Komünite provides members with crucial resources such as educational content, industry tools, and unique insights from experienced professionals. These resources can enhance their knowledge and skillset, giving them an edge in their entrepreneurial journey.
Mentorship & Guidance
Members have the opportunity to connect with seasoned mentors and industry leaders. These mentors offer guidance, advice, and direction, helping members to navigate challenges and make informed decisions.
Funding Opportunities
As a key part of Saparda's ecosystem, Komünite members have exclusive access to potential funding for their startup ideas. This alleviates one of the biggest challenges facing new entrepreneurs - securing initial capital.
Collaboration & Networking
Komünite is not just a community, it's a collaborative space. It brings together like-minded creators, entrepreneurs, and innovators. This network allows members to collaborate, exchange ideas, and establish valuable connections that can help them in their entrepreneurial journey.
Exposure & Recognition
The community provides a platform for members to showcase their ideas and achievements. This can lead to increased visibility and recognition within the startup ecosystem.
Perks and Discounts
Komünite also offers exclusive perks and discounts, providing additional value to its members. These might include discounts on business services, access to exclusive events, or special deals from partner companies.
Continuous Learning
Through webinars, workshops, and online learning materials, Komünite fosters an environment of continuous learning and growth. This helps members stay ahead of the curve in a rapidly evolving industry.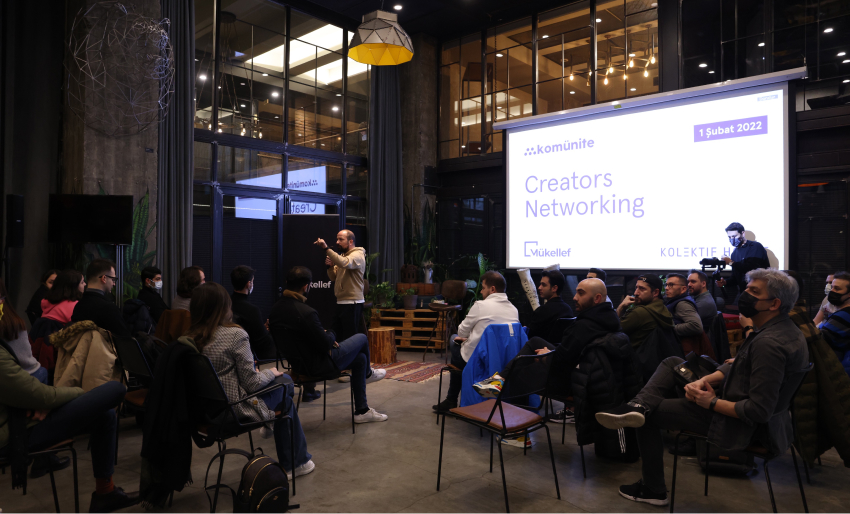 Feb 1, 2022 Creators Networking, Kolektif House Levent
Impact in numbers.
Our commitment to driving innovation and fostering creativity has achieved incredible results. From the number of startups we've launched to the community we've built, our numbers speak volumes.
Active members: 600+
With more than 600 active members, our community is a vibrant hub of ideation, collaboration, and entrepreneurial spirit.
About Komünite
Projects funded: 89
We've provided micro-funding to 156 unique, innovative projects, fueling their journey from conception to completion.
Our Process
Amount of funding provided: $150K
We've provided nearly $150K in funding, demonstrating our commitment to fostering creativity and driving innovation.
Get Funded
Products launched: 25
From a spark of inspiration to a tangible product, we've launched 25 innovative solutions into the English-speaking market.
Our Portfolio
Global users reached: 2.1 M
Our products have reached nearly 6 million users worldwide, impacting lives and industries on a global scale.
Success Stories
Economic impact.
By tapping into local talent and launching products to the global stage, we're not just building startups — we're boosting economies.
Our Portfolio
Boosting Local Entrepreneurship
By providing resources, funding, and guidance, Saparda fuels the entrepreneurial spirit in Turkey, encouraging more individuals to launch their own ventures.
Encouraging Investment
Saparda attracts both local and foreign investors, bringing in additional capital to the Turkish startup ecosystem. This helps to stimulate economic growth and increases Turkey's attractiveness as an investment destination.
Technological Advancements
The startups supported by Saparda often work on innovative, technology-driven solutions. These advancements can lead to increased productivity and competitiveness within various sectors of the economy.
Creating a More Diverse Economy
By supporting startups in various industries, Saparda is helping to diversify the Turkish economy, making it more resilient and dynamic.
Join our mission.
Become a part of the change. Whether you're a creator, investor, or a tech enthusiast, there's a place for you at Saparda. Join us as we reshape the future of innovation.
Discover Komünite
Get insights straight to your inbox.
Join the Saparda community and never miss a beat. From the latest project launches to thought-provoking articles, get it all directly in your inbox.
By entering your email, you agree to receive updates from Saparda. Your information is safe with us. Unsubscribe anytime. For details, see our Privacy Policy.
Perks beyond ideas
As a member of our Turkish community, Komünite, you gain more than just a platform for your ideas. Enjoy exclusive perks and discounts designed to support and elevate your creator journey.
Perks